I've had a few nerve wracking road trips in my life, but a dawn taxi ride to the Cairo airport is high on the list, the driver weaving between lorries at speed with one hand on the wheel and the other firmly clamping his phone to his ear. I was returning from representing Digital Catapult at the first Africa and Middle East Conference on Software Engineering in 2014. I had talked about personal data in the age of ever present sensors and surveillance, but also met a wonderful bunch of people who ran startup hubs in Kenya and Rwanda, taught software engineering in Cairo, or worked on global open data initiatives.
In the early days of Digital Catapult I'd been asked to look at international partnerships. The work started with visits such as Cairo, Singapore and South Korea, and many groups visiting us, including at one point Wired Japan, where I had the honour of a full page that I have yet to get translated! One of the groups who came to see us for inspiration were a senior team from Korea Telecom who were setting up an innovation centre. The South Korean government works at a breakneck pace, and built something like 17 innovation centres within a couple of years. As we were among the launch partners for the Gyeonggi Creative Economy Innovation Center, located on the outskirts of Seoul in the Pangyo "Techno Valley", I had the honour to attend the opening ceremony, signing a partnership agreement on stage with Park Geun-hye, then president of South Korea, since impeached and imprisoned.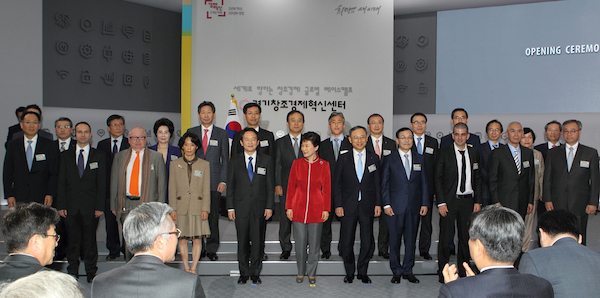 Looking highly uncomfortable in a formal suit; President Park in red.
The security was serious: expressionless guards in sharp suits and earpieces, all mobile and wireless signals jammed. In contrast the Gyeonggi centre had taken design elements emphasising openness, warmth and collaboration from Digital Catapult (designed by Ric Russell of Nicoll Russell Studios) - the ceiling and floor textures, use of warm wood, plants, varied lighting, interspersing showcase labs with office areas. Equally the centre felt very different to Digital Catapult in London. It is hard to overcome the stark differences in the two economies: South Korea famously successful with its huge diversified technology and engineering companies (the Chaebol) like Samsung, Hyundai and LG, but at the time lacking in the entrepreneurial startup culture, and the UK quite the opposite with a burgeoning startup scene but fewer of the big commercial success stories.